Home » Adventures » Grisedale & Glenridding Valleys (from Ullswater)
Grisedale & Glenridding Valleys (from Ullswater)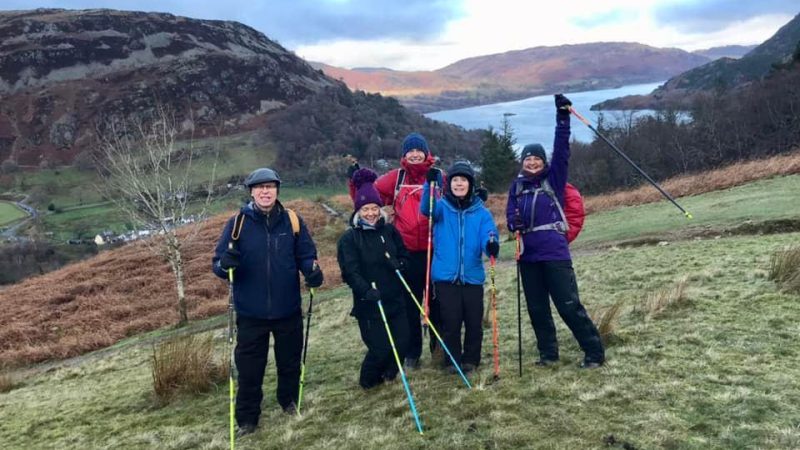 Enjoy the hidden valleys to the west Ullswater. Grisedale Valley is famously where Wordsworth said his last 'Good Bye's' to his brother in 1800, and Glenridding famously home to the Greenside Lead Mines where they found silver.

WALK DETAILS: 14km and 700m ascent.
The ascent is over the course of the day, and although a relatively valley walk, it is deceptive how much up and down there is! This walk can be tailored on the day to suit you. Approx 5-6 hours walking time.

Please email us to make a booking and arrange a date: bookings@hikinghighs.co.uk
Start your day leaving Glenridding, and the shores of Ullswater to head up to the Grisedale Valley and wonderful stride out with St Sunday Crag & Dollywagon Pike towering above you on the south side of the valley. Way above us at the head of this valley marks the spot where William Wordsworth said good bye to his Brother for the last time in 1800 before being killed at sea four years later. Keeping our walk fairly level we returning to Lanty's Tarn along the north side of the valley, Ullswater leaps towards you oas you pass the tarn to give spectacular views from a well acclaimed vantage point and perfect photo spot.
Our picnic spot will be in the Lanty's Tarn region, weather dependent if we sit facing Ullswater or back down into Grisedale, both sides are magical in different ways.
Moving on up to the Greenside Mines following the water leats towards the head of the valley and a good view of the mining levels, we see the scale of the lead mines here. We return on easy terrain down the Greenside Mines bridlepath.
You will need:
expand_more
Rucksack for your kit for the day, lunch, and spare kit
Boots or trail shoes/approach shoes with good trail grip
Walking Socks, or Waterproof socks if weather not in our favour
Waterproof top with taped seams, so fully waterproof
Waterproof bottoms with taped seams, so fully waterproof
(waterproofs above are essential even on dry day, as these are your emergency layer too)
Warm jacket, preferable not down as this can collapse if wet in the rain
Spare midlayer/jacket for emergency that you don't intend to wear for the walk
Warm hat
Warm gloves, or waterproof gloves if due to be wet (we have spares if you advise us you need some)
Thin gloves or liner gloves can be useful if warmer weather with a chilly breeze for the top sections of the walk
Lunch & snacks that are easily accessible in your pack
Cold drink
Warm drink (we have spare a spare thermos or two if you don't have one - please advise us if you need us to bring you a warm drink)
Head torch - this is essential emergency kit for each member of the group between September & April (we have spares please advise if you need to borrow one)
Walking poles if you feel this would give you added security (We have lots of spare poles that fold into 4 sections for easy carrying on your pack - please advise us in advance if you would like to borrow some)